Inside the live-action immersive experiences heading for Camden Market
Last November, LabTech, owner of Camden Market, announced the signing of Tomb Raider: The Live Experience within the market's iconic Stables, due to open in April this year. In January, Labtech also revealed immersive theatre Peaky Blinders: The Rise is set to arrive withing Camden Market's Vanguard Theatre this summer, delivering another entertainment-led facet to the all-encompassing retail, food, and leisure destination.
Retail Destination spoke to Kayla Holroyd, head of marketing at Little Lion Entertainment, the group behind Tomb Raider: The Live Experience, Brian Hook, chief creative officer at Immersive Everywhere which will deliver Peaky Blinders: The Rise to find out what to expect from the live experiences.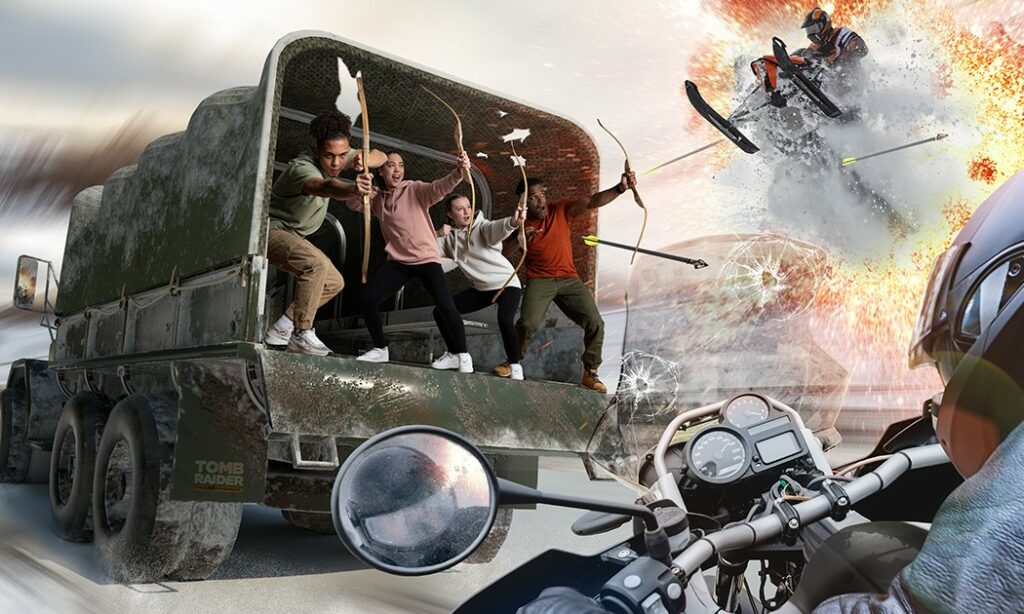 Tomb Raider Live
Holroyd describes Tomb Raider as 'an iconic franchise' that spans 25 years and a whole host of entertainment mediums, which is why they did not think twice about adding a live immersive experience to that list. "The essence of Tomb Raider lends itself perfectly to the DNA of an immersive adventure," she says. "Whether that's puzzle solving or ziplining through the jungle, bringing the world of Lara Croft to life and allowing our guests to become the hero is immensely exciting."
Holroyd reveals that the two-hour Tomb Raider experience will centre around the video game franchise's protagonist Lara Croft as she makes a deadly discovery about an ancient artifact, and that it will be up to teams to help ensure that it does not fall into the wrong hands, as this could spell 'the end of mankind'.
"You'll be embarking on a globe-trotting adventure, taking on environmental puzzles, discovering an ancient Tomb, and using all your wits and physical strength to complete this adventure," she tells, explaining that the attraction will sees live actors guiding players through the linear narrative of the experience, with each space transporting them to a different location, with 360 sets and effects, games, and activities, adding: "This is not a passive experience; you really will be fully immersed in the action."
On why Little Lion Entertainment selected Camden Market, she says it was because the site is 'unbelievable': "Camden Market is a huge part of London Culture and has amazing footfall. Aside from the location, the space itself lends itself perfectly to the sweeping vistas of a jungle, or the awe-inspiring exterior of a Tomb. You walk into the space and can immediately see how we could bring this experience to life here."
For Little Lion Entertainment, Holroyd says that the Tomb Raider experience is just the first step towards an exciting future, with more plans coming soon including another London attraction, taking a step into the US market, and teasing that more details will be revealed soon.
Peaky Blinders: The Rise
Immersive Everywhere decided to bring the Peaky Blinders experience to Camden this summer as the 6th and final series of the popular drama is about to air, and Hook says there is 'an enormous appetite' for the Shelby family and their world, describing the live interactive theatre experience as something they were confident audiences wanted to see and be a part of.
Peaky Blinders: The Rise is an immersive theatre show that places the audience right at the heart of the narrative and makes them an essential part of the story. Players can choose their own journey through the world of Peaky Blinders, dressing up and interacting with key characters and visiting iconic locations from the TV series. Based on seasons 2 to 4 players will follow the rise of the Shelby family as their fortunes grow, and no two experiences will be the same. "From all of the key characters and their effortless cool through to the iconic moments from the TV series, Peaky Blinders: The Rise will have it all," says Hook.
He says that as Camden is the fictional home of Alfie Solomons and his gang and is the setting for much of the London based action in the TV series, it was the perfect place for Immersive Everywhere to set their own Peaky Blinders show, calling the Vanguard Theatre – a former horse hospital – an 'incredibly atmospheric' building that really lends itself to the Peaky Blinders style.
The Peaky Blinders experience is just one of many shows produced by Immersive Everywhere, with others including The Great Gatsby, currently running at Immersive LDN, and the BBC licensed Doctor Who: Time Fracture, now playing at UNIT HQ near Bond Street underground station. Immersive Everywhere is also the producer of The Choir of Man at the Arts Theatre. Hook adds that there are more big titles being developed into shows which will be announced/open later in 2022.
Maggie Milosavljevic, Commercial Director at LabTech, owner of Camden Market, says that leisure experiences such as the live Tomb Raider and Peaky Blinders experiences have, in a short space of time, gone from being a bonus operation within the wider destination offer, to a vital component.
"Experience is now crucial to ensure the vitality of places; so much so that destinations are competing to get the best and most exclusive concepts," says Milosavljevic. "Camden Town is simply the best place in the UK for unique experience; it has a character like no other area.
"Across all its markets there is a plethora of diverse retail, exceptional food and drink, and world-class entertainment. It is with these businesses in mind that we make our decisions when it comes to new leisure operators – anything we introduce has been designed to support the Market's 1,000 plus independent traders, generating new footfall and revenue for them to leverage.
"Add Tomb Raider and Peaky Blinders, as well as a proposal for an observation wheel and a UK debut family-focused concept, and what we have is a new list of exciting reasons for people to come back to physical destinations."
This was first published in Retail Destination Fortnightly. Click here to subscribe.